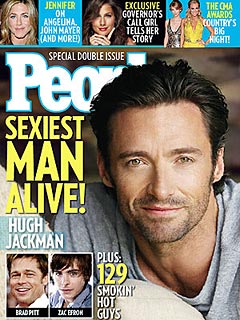 Hugh Jackman,
Shmugh Shmackman
. I guess he's OK, if you go for that hirsute/werewolf/Aussie thing. But, we see about a dozen hotter guys just barhopping around town on a Thursday night. I'm sure you do too.
Which is why--queue the drumroll--we are having our first ever hunt for Philly's Sexiest Dude ALIVE.
Yes, alive.
Nominate your faves to us at
hi@shmittenkitten.com
and make a case for your chosen hottie. Attach some pics or links if you can. Then, we will take the results back to our laboratories where we will pull our hair up into high ponytails and don labcoats with clipboards. Clipboards!
As you would expect, we will have an exceedingly thorough vetting process. There may even be a Bunsen Burner or two in the mix. After some intense Powerpoint presentations (with the requisite animation) and a few heated debates, we will pick five of the hottest hotties and let you, the readers, decide who should win the title.
Alright, let the flurry of nominations begin! Make us proud, Philly.